Happy belated New Year!
We hope you are having a great start of the year.
Here's a good news for all of you especially advanced users and Linux users.
All new DYNAMIXEL Wizard 2.0 is about to be released, so we'd like you to try it and tell us what you think.
The DYNAMIXEL Wizard 2.0 supports Linux and Windows, and going to support OS X as well in the near future.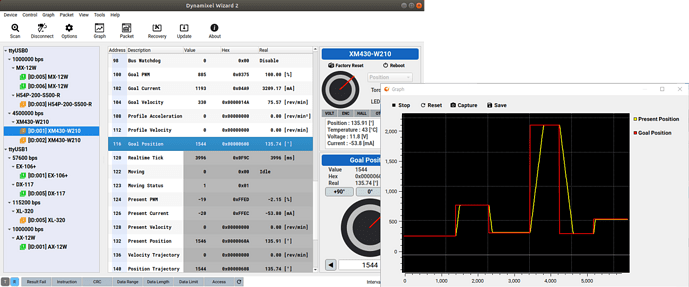 DYNAMIXEL Wizard 2.0 comes with various advanced features that will allow users to get the most out of DYNAMIXEL.
Below is the list of advanced features "currently" implemented in the software.
Graph plotting feature : User can select Control Table items to plot data on the graph
Packet Monitoring & Generation : User can easily generate packets and log TX/RX packets to analyze
DYNAMIXEL Diagnosis : Enhanced diagnosis helps to figure out the problem of DYNAMIXEL.
Enhanced Firmware Updates : Multiple DYNAMIXEL with different ID can be updated at the same time.
Multi Baudrates, Ports are supported.
Please refer to the below eManual for more information.
Software can be downloaded at below download link.
Please feel free to report any bugs or issues.
Thanks!