Equipment model: openCR 1.0
Phenomenon: There is a COM port and it can also be set to DFU mode, but an error is reported during the program download period. (The last time the program content was uploaded, the Arduino light of openCR should flash once in 500ms (it should turn on and off once in 1s), and the USER3 light should turn on red.).
Referring to this repair article: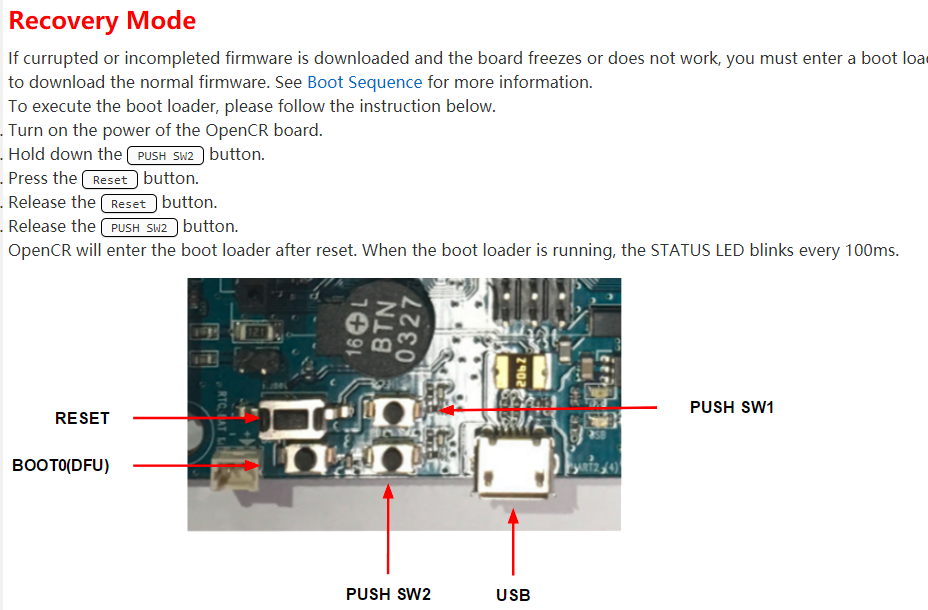 You can enter repair mode (press and hold the PUSH SW2 button; press the Reset button;Release the Reset button; Release the PUSH SW2 button.


The error is still reported. After completing the upload, the status indicator light quickly flashes at a frequency of 100ms (as if entering repair mode), and the control board is unable to complete the download.

Attempted to repair on Linux (Ubuntu) system and Windows, but failed to complete the download, and the motherboard remained in a flashing state.



It is possible to burn bootloader, but there seems to be a warning appearing:
Dfu util: Invalid DFU suffix signature
Dfu util: A valid DFU suffix will be required in a future dfu util release!!!