---
The Robotics Roundup is a weekly newspost going over some of the most exciting developments in robotics over the past week.
In today's edition we have:
How to build a robot arm that can flex in the moon's frigid south pole
When robots lie, is a simple apology enough for humans?
Table tennis brain teaser: Playing against robots makes our brains work harder
Robots as rescuers are not allowed to make mistakes
This tiny robot could 3D print inside your body to make repairs and fight cancer
---
NASA is working on a new lunar rover that can operate in the extremely cold conditions found on the moon's south pole, where temperatures hover around minus 280 degrees Fahrenheit. To achieve this, NASA and Motiv Space Systems have created the Cold Operable Lunar Deployable Arm, (COLDArm) a custom designed manipulator designed for operation in these extreme conditions. The 6.5-foot arm is the primary tool for scooping up samples from the moon's surface and can supercharge the amount of experimentation that can be conducted in the chillier regions of our solar system by eliminating the current need for daily warmup periods before operation. The arm is made of bulk metallic glass, a class of metals that are stronger and more durable than steel or ceramic and don't require wet lubricant at their joints, which freeze solid at temperatures much higher than those on the moon.
---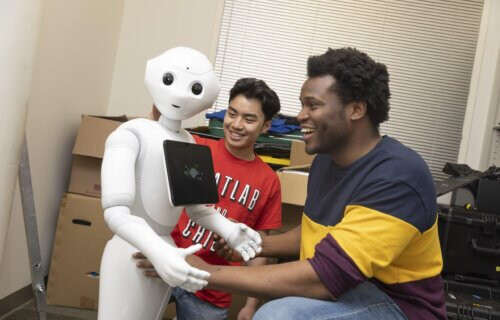 A new study by researchers at the Georgia Institute of Technology has investigated the effects of robot deception on human trust. Participants were asked to complete a driving simulation in which a robot assistant advised them to keep under the speed limit to avoid police, even though there were no police. After the deception, participants received one of five different responses from the robot assistant. Results showed that those who received a simple apology without an explanation or admission of lying did better at repairing the AI-user relationship, while apologies where the robot admitted to deception resulted in more distrust. This seems to indicate that most users don't consider that a robot may engage in intentional deception, highlighting an important ethical concern for the AI and robotics industry.
---
Amanda Studnicki, a graduate student at the University of Florida, and her advisor, Daniel Ferris, have discovered that the brains of table tennis players react differently to human or machine opponents. Studnicki served and rallied against dozens of players on a table tennis court, while others played against a ball-serving machine. The researchers found that when playing against a human, players' neurons worked in unison, but when facing a ball-serving machine, their neurons exhibited less synchronization, indicating less cohesive though processes. The team suspects that the players' brains were so active while waiting for robotic serves because the machine provided no cues of what it would do next. These findings suggest that training with a machine might not offer the same experience as playing against a real opponent. Ferris believes that understanding how our brains react to these differences could help make robots more naturalistic, especially as they become more embedded in everyday life.
---
The Moralities of Intelligent Machines research group conducted a study to investigate people's moral views on emergency decision-making situations where a rescuer, either human or robot, has to choose between saving one innocent victim or two individuals who caused the accident. The study found that people emphasized the innocence of those to be saved more than their number, regardless of whether the rescuer was human or robot. However, this emphasis was highlighted more strongly in the case of robots, and robots' decisions were assessed on stricter moral criteria than humans. The study highlights the importance of understanding moral thinking and attitudes towards new technologies, particularly as the possibilities for automated decision-making in various sectors of society are increasing.
---
Content Warning: The linked article contains a video of medical imagery of human organs in laboratory conditions.
Australian scientists have created a flexible robot that can 3D print biomaterials inside the human body to repair damaged organs, tissues, and blood vessels. The robot, called F3DB, uses "bio-ink" and living cells to print tissue-like structures, which then fuse naturally with the human body. The device is small enough to be inserted into the body through existing orifices, reducing or eliminating the need for invasive surgery. It can also act as an all-in-one endoscopic tool, with its printing nozzle being able to act as a scalpel and water jet.