---
HAPPY THANKSGIVING!
---
The Robotics Roundup is a weekly newspost going over some of the most exciting developments in robotics over the past week.
In today's edition we have:
BONUS: Lyra the nuclear inspection robot named one of TIME Magazine's Inventions of The Year!
Inside Samantha Johnson's quest to build robots for deafblind people
There's only so much a robot can do
Boston Dynamics sues Ghost Robotics over robot dog patent infringements
Operators lament the loss of Sally the salad robot
"Robot rooms" could be the future of homes and offices
---
Now's your chance to win a robotics competition of your own! The ROBOTIS Community Forum is currently hosting the DYNAMIXEL MINATURE MACHINES MASHUP contest!
Enter your minature DYNAMXEL robot today for your chance to win!
---
This nuclear inspection robot features one of ROBOTIS' own OPENMANIPULATOR X units, used for gripping radioactive materials for testing and inspection!
---
Samantha Johnson, the founder of Tatum Robotics was interviewed by The Robot Report about her Tatum Hand tactile sign interpreter bot.
---
This article from The Week speaks about some of the shortcomings of robotics in real world use cases, and how the future of robotics may lean towards using robotics as assistants rather than replacements for humans.
---
Boston Dynamics filed a patent infringement suit against Ghost Robotics, alleging that their Spirit 40 and Vision 60 platforms infringe on Spot's intellectual property.
---
DoorDash's shuttering of their robotic foodservice vending machines has left a hole in the hearts (and stomachs) of Washington University's students.
---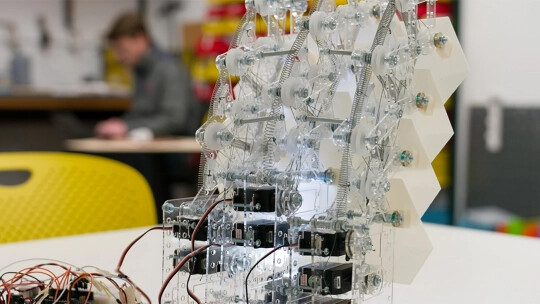 Is it possible that the next big change in the field of robotics is the development of reconfigurable "Robot Rooms" in homes schools and offices?