Problem Description:
I am trying to achieve a sampling time of 1 millisecond. Currently, if I want to control three motors at the same time, the loop duration is 0.008 seconds. Due to this limitation, I am currently using a sampling time of 0.01 seconds for my experiment. Unfortunately, this sampling time is too long for the control method I want to use to efficiently control the openManipulator -x and ensure accurate tracking.
In my opinion, the main problem is that reading and writing the motors takes too much time. As you can see in the attached picture, I have included a small example code segment to explain my problem in more detail. Even in this small example where only one motor is used, the loop duration is 0.0012 seconds.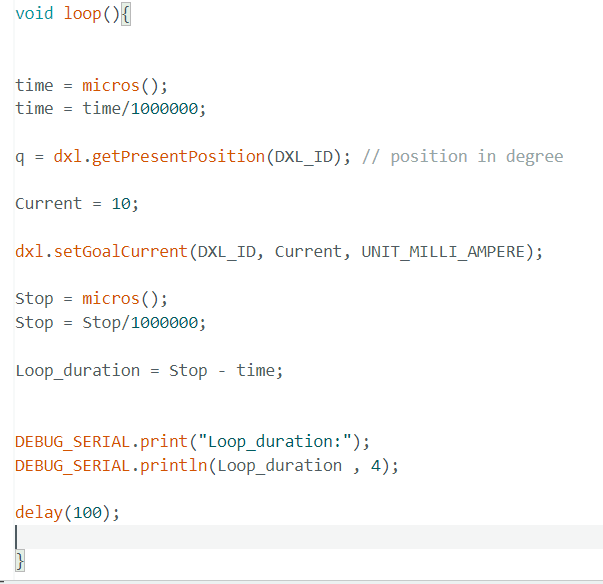 Steps taken so far:
I have set the baud rate to 2 Mbps (2,000,000).

The return delay time was set to 0 µs.

I used the fastSyncRead function for communication.
Hardware and software used:
I use three Dynamixel motors of the type XM430-W350-T.
For control and communication I use the DYNAMIXEL Shield
Arduino Mega 2560 is used as the microcontroller
To determine the position of the motors I use an LN-101
The programming is done via the Arduino IDE over Windows 10
Maybe someone has more ideas on how to increase the reading and writing speed of the motors to reduce the sampling time to 0.001 seconds?