What model of servo are you using?
8x XC330-T288 and 8x XL330-M288 split across two arms. They in the following configuration for each arm:
XC330-T288: Shoulder (in/out), Shoulder (forwards/backwards), Shoulder (rotation), elbow
XL330-M288: wrist rotation, wrist (up/down), wrist (left/right), hand
Describe your control environment. This includes the controller or interface, and any power source.
This is a two armed robot, it has a 16v battery with regulators for 11.1v and 5v for the two servo types. I am controlling them using an U2D2 from a PC for development and a Raspberry Pi onboard the robot.

Specify the operating mode for applicable models, and any firmware settings you are using.
All servos are currently in extended position mode, IDs have been set but otherwise all at factory settings.
I made a custom loom for the arms, this passes through ground and data and 11.1v from the start until (and including) the elbow. Then injects 5v for the rest. This is the same on both arms.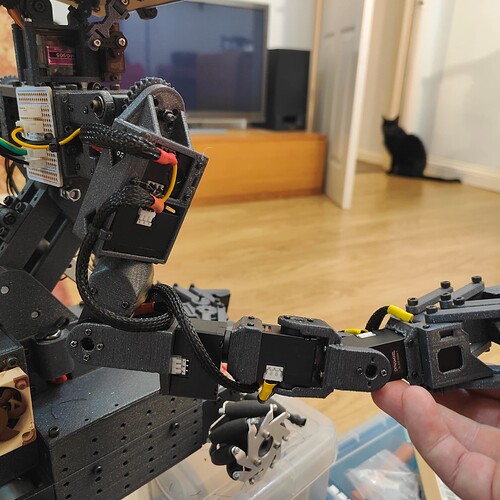 This shows the other arm with the original wiring for testing.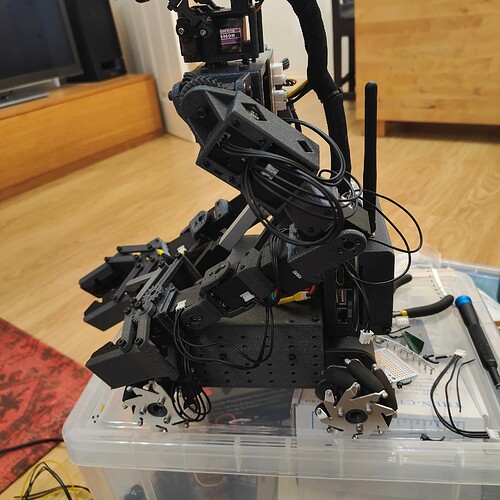 Full photo of the robot, the head is a work in progress as I'm redesigning to use a new set of cameras.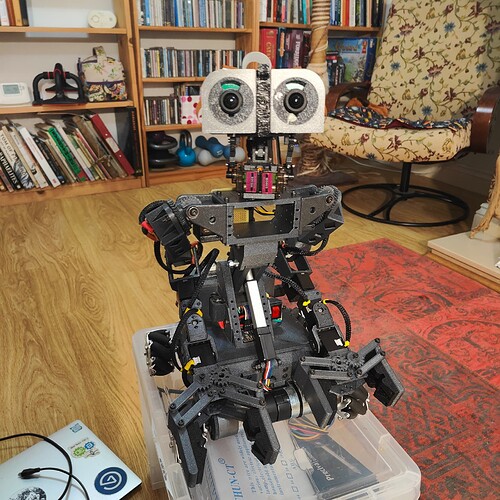 Include a full description of the issue.
At idle the XC330-T288 servos run a lot warmer than I would expect. Most are in the 45-55c range and one slowly approaches 70c at idle and quickly enters over-temperature mode.
What are the expected temperatures for these servos at idle? For comparison, the XL330-M288 servos all sit at around 17-23c at idle so I'm not in a very warm environment. Are these all faulty or is the 45-55c range to be expected?