---
The Robotics Roundup is a weekly newspost going over some of the most exciting developments in robotics over the past week.
In today's edition we have:
Wired takes a look at Stanford's OceanOneK Diving Robot
Researchers hit robotics milestone with 3D-printed muscles
ESA marks first steps of new robot in space
Aerial Dragon Robot Reconfigures Itself Into a Flying Manipulator
FTC investigating Amazon's acquisition of iRobot
---
Wired Takes a Look at Stanford's OceanOneK Diving Robot
In this video, Wired spoke with Professor Oussama Khatib about the OceanOneK robot that his team has been working on at Stanford's Robotics Lab. In this video, Professor Khatib goes over some of the innovative solutions his team have implemented in order to integrate all the technologies needed for OceanOneK to perform the complex underwater manipulation tasks it was designed for.
---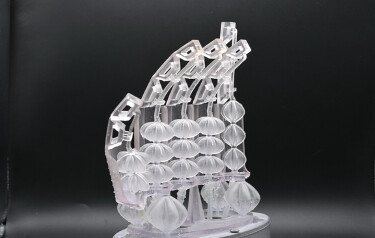 A joint research team from the Italian Institute of Technology in Genoa and the Sant'Anna School of Advanced Studies in Pisa have developed a new 3D printed synthetic muscle technology. Their development, called GRACE (GeometRy-based Actuators able to Contract and Elongate) is a pneumatic actuation method comprised of geometrically shaped pleated bladders that can expand or contract to manipulate fibers, similar to the function of biological muscle.
Although this Research is still in it's early stages, this research is laying groundwork that could be vital to the future of novel robotics actuators.
---
The European Robotic Arm performed it's first payload transfer last week, after several delays experienced over the past few weeks. The arm is additionally scheduled to undergo further relocation, and installation of additional rigidizing features prior to a performance mission to test the arm's full capabilities sometime this month.
---
The University of Tokyo's Dragon (Dual-rotor embedded multilink Robot with the Ability of multi-deGree-of-freedom aerial transformatiON) flying manipulator is a truly impressive feat combining aerial drones and robotic manipulators. The innovative body style allows the Dragon to restructure itself on the fly (literally) to complete it's objective, allowing it to handle tasks that would be impossible for more conventional drone or manipulator designs.
Plus, if you look closely you might be able to spot some familiar actuators!
---
The US Federal Trade commission opened an official antitrust investigation into the merger between Amazon an iRobot. This investigation could result in the FTC mandating the restructuring of the pending acquisition, or in preventing the acquisition from occurring at all.